Dr. Lauren Cohn
Fishtails Animal Rescue, the rescue arm of the Fishtown Animal Hospital, was created by Dr. Lauren Cohn when she saw a need for an additional space committed to the rescue and rehabilitation of stray and shelter animals in her community. She began her rescue efforts by pulling animals from local shelters that would normally be deemed "unadoptable" due to extreme medical concerns, providing the animals with necessary medical treatments, safe and loving temporary foster care, and ultimately finding them their forever homes.
Almost immediately, Dr. Cohn found that there was an additional need in her community beyond rehabilitating and rehoming stray and shelter animals. Too often, pet owners find themselves faced with temporary financial crisis when a beloved pet is diagnosed with an extraordinary medical condition or is in need of life-saving veterinary care. Owners may be faced with the choice to surrender their pet to a shelter or to euthanize them in such cases. Dr. Cohn decided that Fishtails Animal Rescue would develop a fund that would be dedicated to providing financial assistance to these pet owners.
The Fishtails Fighting Chance Fund came into existence in order to cover medical costs beyond routine veterinary care, to allow loving pet owners to avoid surrender and/or euthanasia of a beloved pet. Pet owners do have the option to surrender their pet to Fishtails Animal Rescue if they find themselves incapable of providing the care needed.
Currently, Fishtails Animal Rescue provides medical services to stray, abandoned, and surrendered animals, placing those animals into foster care while they wait for their forever homes. Fishtails Animal Rescue uses its Fighting Chance Fund to provide financial assistance to pet owners facing extraordinary veterinary expenses, to avoid surrender or euthanasia of a beloved family pet.
The Fishtails Animal Rescue believes that every animal deserves their fighting chance.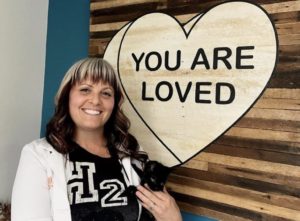 DR. LAUREN COHN
Veterinarian • Founder