Your love means the world
Here at Fishtails, we pull animals from local high-volume shelters that would normally be deemed "unadoptable" due to urgent medical needs or concerns, provide them with necessary medical treatments, and send them to temporary, loving foster care until they find their forever homes.
Our mission:
To create a safe space dedicated to the rescue and rehabilitation of stray and shelter animals in our community. At Fishtails, we truly believe that every animal deserves a fighting chance – especially elderly, sick, or otherwise "unadoptable" animals that would typically be overlooked.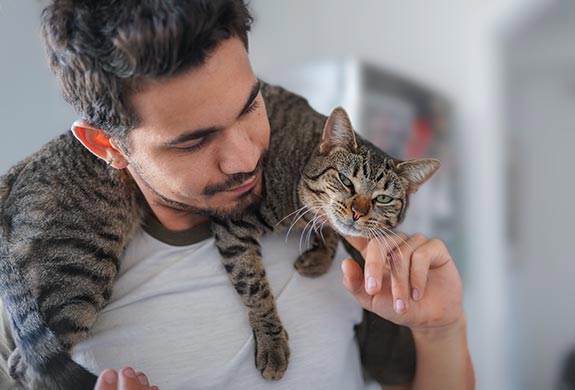 Once you've found an animal you'd like to foster, the first step is to fill out an application to foster. Simply complete the form, and we'll review your application and references before reaching out to you (usually within 72 hours). We'll then connect you with the animal you requested, or a different animal that we think will be a good match.
We provide all medical care through our veterinary hospital, and emergency care if needed.
Fosters are responsible for food and transportation to and from veterinary appointments, but we'll take care of everything else!

Can I foster an animal if I have pets already?
Yes, as long as they are well socialized and interact well with other animals. We also strongly recommend that your pets be up-to-date with vaccinations. However, no matter how well your foster gets along with your pets, we usually recommend a gradual introduction period and that you keep them separated at first when you are not there to supervise. This is for the safety and well-being of all animals.
How long will my foster animal stay with me?
The foster stay varies with each cat and dog depending on the animal's specific needs. Animals with special needs may need to stay in foster care for a period of months, while some may stay only a few days; it depends on the individual animal's situation.
Will I be involved in the adoption process of my foster animal?
Yes, our fosters are very involved in the decision-making for their long-term home. Because the foster spends so much one-on-one time with the animal, we consider volunteers an essential part of rehoming the animal in the best possible environment.
What are the benefits of fostering?
There are many benefits of fostering an animal!
Many people want to volunteer directly with animals, but lack the time to do so in a shelter environment.
Others may want to adopt a pet, but can't due to outside circumstances. This is a great way to have a pet in your home without committing to adoption.
Some may want to experience the joys of a companion animal in the home, but are not ready for the long-term commitment of adoption.
You can choose the type of animal you are comfortable with inviting into your home.
Can I adopt my foster animal?
Yes! Foster volunteers often fall in love with a pet they are fostering. We encourage these "foster failures"!
Apply today to help us save more animals.